North Central Iowa Bank Seeking the Public's Help in Recognizing Hometown Heroes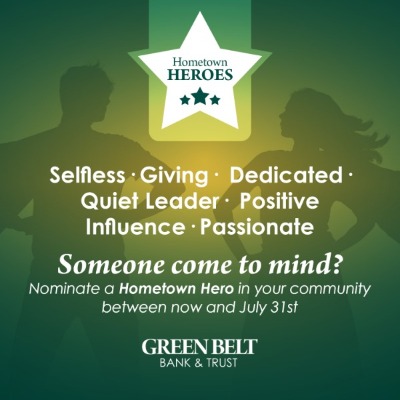 Iowa Falls, IA (July 1, 2023) – Since 1986, Green Belt Bank & Trust has remained dedicated to the residents and communities of North Central Iowa. That commitment continues today with the introduction of the Hometown Heroes campaign, which focuses on the individuals who dedicate their time and energy to supporting local charities and organizations in the communities they live in and love. 
For those who live in small towns, you probably know friends or family members who go the extra mile to help improve their community and to bring smiles to residents and visitors' faces alike. In honor of those selfless Hometown Heroes, Green Belt Bank & Trust will be recognizing and rewarding individuals through the new campaign. 
By area resident nominations, the bank will recognize and honor a Hometown Hero in a local community represented by each of the six Green Belt Bank & Trust branches: Ackley, Belmond, Eldora, Grundy Center, Iowa Falls, and Parkersburg, as well as surrounding communities. The selected individuals will each choose the nonprofit community organization they are most passionate about and Green Belt Bank & Trust will make a $500 donation to that organization.
Green Belt Bank & Trust encourages their social media followers and customers to nominate a Hometown Hero who is dedicated to service in their respective community while also providing a brief explanation of why that individual deserves to be nominated. Through July 31st, nominations can be sent to Green Belt Bank & Trust by
The longstanding community bank outlines characteristics of Hometown Heroes as
Selfless

Giving

Sometimes quiet leaders

Passionate about their community

Work to strengthen community ties

Provide a positive influence in the community

Put the "unity" in community
At the beginning of August, Green Belt Bank & Trust will review all nominations and select a winner from each represented branch. In addition to the $500 donation, the six Hometown Heroes will each have the opportunity to speak more about their community cause in future social media posts.
"We're excited to launch this campaign and for our hometown community members to promote positive interactions and vibes within our small towns," said Molly Ackerson, Vice President & Marketing Officer for Green Belt Bank & Trust. "This is a fun, interactive way to shine the spotlight on the local individuals who dedicate their time to help strengthen our communities."
Based in Iowa Falls, Green Belt Bank & Trust also has locations in Ackley, Belmond, Eldora, Grundy Center, and Parkersburg, providing an expansive variety of banking options, financial services, insurance, and other resources. 
Those interested in learning more about Green Belt Bank's products and services are encouraged to visit the company's official website at GreenBeltBank.com and follow the company on Facebook, Instagram, and LinkedIn.